Despite what influencers say, finding a skincare routine that works for you is a struggle. There's researching what products you need, finding the right ones, and even then they might not be compatible with each other.
But what if different skincare products were designed to work together from the start?
Our Skin Glow Duo is a bundle of two expertly formulated skincare solutions – Skin Glow Serum and Skin Glow Capsules. Your glow starts from within – so why not support your skin health from inside and out?
Read on to discover the benefits of each ingredient in the Skin Glow Duo and how to use it best.
What Are Skin Glow Capsules?
The first part of our new Skin Glow Duo is the Skin Glow Capsules. These tiny capsules are packed with a unique blend of vitamins and beauty ingredients to support your skin health from within.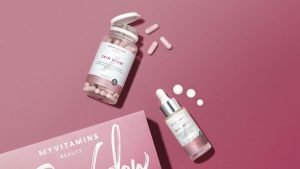 Benefits
Skin Glow Capsules include a mix of vitamins and minerals to help your skin stay supple, healthy and bright. This expert blend includes Vitamin C, Vitamin A (in the form of retinol), SkinAx, zinc, and copper.
Vitamin C for collagen formation
Vitamin C contributes to collagen formation, which is key to youthful-looking skin.
Did you know collagen is the most abundant protein in your body?1 It helps keep our skin, hair and joints healthy by providing structure to the tissues. This makes it the perfect addition to your skincare routine, especially if you're looking to keep your skin firm and supple.
Our collagen levels start to decline as we get older, which is part of the reason why our skin develops wrinkles and gets more fragile. Supplementing collagen with something like Skin Glow Capsules can support skin health at any age, since your ability to replenish collagen decreases about 1% each year.2
SkinAx
SkinAx is one of the most exciting ingredients in the skincare industry today. Its unique formula made with melon concentrate and grape seed extract has been shown to improve the appearance of skin (in a study of 35 women aged 40-70).3
Specifically, it was shown to improve the skin's elasticity and firmness, as well as reducing redness and dark circles.
Zinc and copper
Next up is a superhero pair of minerals: zinc and copper. Zinc supports your skin because of how it protects your cells from oxidative stress (making it an antioxidant). Meanwhile, copper helps with skin pigmentation.