To celebrate Myvitamins' 10th Birthday, we've launched the world's first double-layered vitamin gummy. Our limited-edition Hair, Skin & Nails Gummies contain over 8 essential nutrients and come in a tasty Peach flavour. Here's everything you need to know.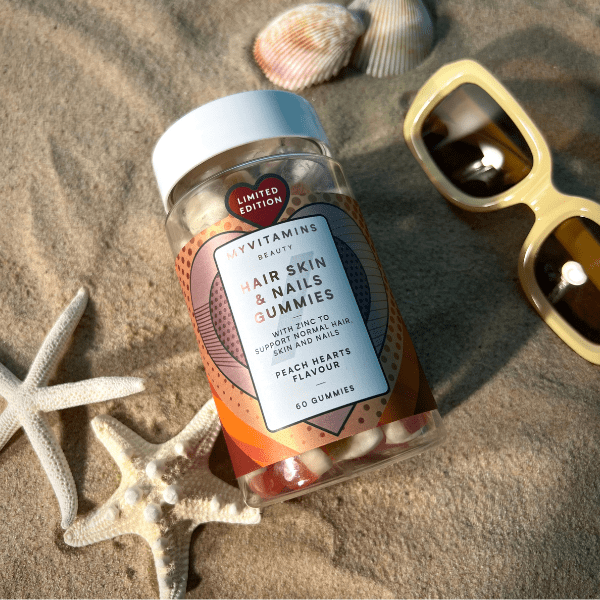 What Are Myvitamins Peach Heart Gummies?
A fruity addition to your beauty routine, our brand-new gummies are a delicious source of vitamins and minerals for your hair, skin and nails. Each heart-shaped gummy has a top jelly layer and a bottom foamy layer, enriched with:
Vitamin C to support normal collagen formation. 1
Zinc, biotin and selenium to nourish healthy hair, skin and nails. 2
Vitamin B12 to help fight fatigue. 3
Vitamin E to protect skin cells against oxidative stress. 4
As well as vitamins B6, B12 and D3.
Why Are Vitamins Important to Hair, Skin & Nails?
Without enough vitamins, minerals and fatty acids in our diet we can suffer from breakouts, brittle nails and thin hair.
There are a wide range of nutrients we need to feel and look our best. Zinc for example, helps to build the proteins that form our hair and nails. Biotin contributes to the formation of fatty acids that nourish your complexion from within.
Additionally, vitamin C has antioxidant properties which help to fight free radicals in skin cells. These molecules damage the skin and are commonly caused by pollution, smoking and alcohol consumption. Vitamin C also maintains normal collagen production. Collagen plays a key role in skin elasticity and declines as we age.
Do I Need To Take A Multivitamin?
For lots of us, it can be difficult to follow a fully balanced diet every day. A multivitamin is a convenient way to fill in any nutritional gaps and top up your vitamin intake anywhere, anytime.
Not only do our Peach Heart Gummies promote healthy hair, skin and nails, but they're also a great addition to your everyday wellbeing. They contain vitamin D3 to support bone health (5) and vitamin C to support immunity. 6
This tasty new supplement is limited-edition so it won't be onsite for long! Purchase yours now: