Menopause is a series of major hormonal changes which usually occur between the ages of 45 and 55 in women. Whilst this is a natural part of ageing, menopause can cause a whole host of symptoms including hot flushes, weight gain and more. Our diet can play a huge part in the severity of these, and there are certain nutrients which are essential for everyday hormone health.
While menopause is inevitable, there are practices and habits we can implement to help make the process go more smoothly.
In this article, you'll find:
What is menopause?
Can nutritional changes impact menopause?
What are the best menopause supplements?
What Is The Menopause?
Menopause, peri-menopause and post-menopause are stages in a woman's life when her monthly period stops. This is the end of a woman's reproductive years.
Peri-menopause is the first stage in this process and can start eight to ten years before menopause.  Think of it as the menopause transition. During this time, sex hormones such as oestrogen and progesterone can fluctuate significantly. Women typically start to experience it in their 40s – though for some it can start in their 30s, with many women starting to have erratic periods as their most obvious symptom.
The peri-menopause is followed by menopause, with symptoms (1) including:
Changes to the frequency of your periods (with them eventually stopping altogether)
Hot flushes
Night sweats
Headaches
Mood changes
Reduced sex drive
Joint pain
Heart palpitations
The menopausal period typically lasts around seven years, although it can last up to fourteen. This is then followed by the post-menopausal period, where symptoms gradually decline over a period of four-five years.
Can Nutritional Changes Impact The Menopause?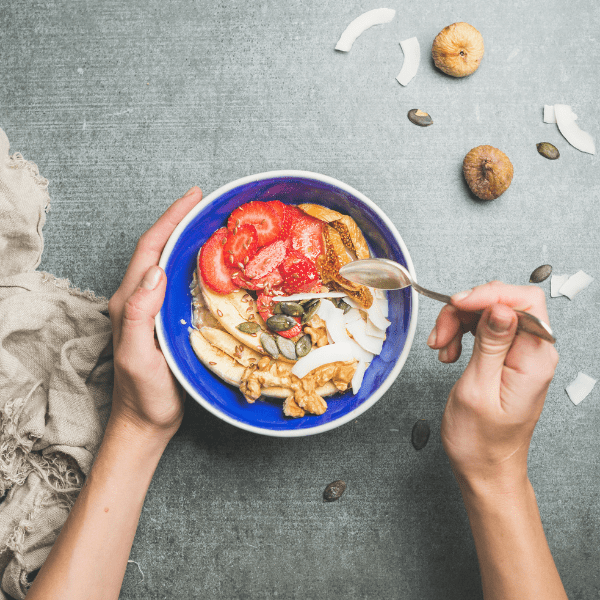 In short, yes. The severity of menopausal symptoms is partly determined by cortisol – the stress hormone. Symptoms often get worse the higher the cortisol is.
As well as directly putting sugar into the blood (for your fight or flight response), cortisol can also prevent insulin from doing its job of transporting glucose into cells. Excess glucose is converted to fat; therefore, insulin is known as the 'fat-storing' hormone.
There are some simple ways you can improve your symptoms:
Balance Your Blood Sugar
Keeping blood sugar and insulin levels stable is critical during peri-menopause and menopause. Poor glucose control places a huge stress on the body.  Healthy post-menopausal women and menopausal women can experience more hot flushes when their blood glucose falls between meals. To help balance your blood sugar levels:
Limit refined carbohydrates, sugar, and alcohol
Eat more vegetables, protein, and healthy fats
Limit snacking, stick to two or three meals a day
Try overnight fasting
Stress Management
Balancing your stress hormones is essential to maintaining good blood sugar balance. Increased production of the stress hormone, cortisol, has been associated with higher blood glucose levels. You can reduce stress by:
Making self-care and stress management a non-negotiable priority on your to do list
Avoiding potential food stressors, such as processed foods, sugar, alcohol, vegetable oils
Identify food sensitivities such as gluten, dairy, soy, and eggs
The Best Menopause Supplements
It's important to ensure you're maintaining a healthy lifestyle through a balanced, varied diet and regular exercise. The addition of supplements can then support your health further. This may reduce the risk of nutritional shortfalls that may be associated with menopause symptoms.
Calcium Tablets
As we age, our bones can weaken and become porous (a condition known as osteoporosis,) making fractures more likely. Calcium loss accelerates as oestrogen declines, so it's important to pay particular attention after you enter peri-menopause.
There are lots of dietary and lifestyle changes that support healthy bones, so incorporate these if you aren't already:
At least 30 minutes of weight-bearing exercise a day (running, walking, resistance training, dancing)
A diet rich in fruits, veggies, whole grains, and lean proteins. Foods that are particularly rich sources of calcium include dairy products and fortified plant-based alternatives, soybeans, sardines, kale, baked beans, and figs
No smoking
Get enough sleep