At Myvitamins, we want to make health and wellness simple. This includes our sustainability initiatives. We aim to always be transparent about our waste, emissions and product production, meaning you can support us in looking after the planet. Here are our most frequently asked sustainability questions. 
Q: Why do you use such a big pot for just 30 capsules?
It is a legal requirement to have full nutritional information and ingredients on the back of pack, in a font size that is accessible for all of our customers. That's a lot of information to fit onto a little pot, which is why sometimes they might look a bit bigger than you'd expect. 
Over the last 2 years, we've been working hard to reduce the size of our pill pots down (while still sticking to the rules above) to reduce plastic waste. However, if you do see a bottle that looks a little on the big side, drop our customer service team a message and we will be happy to look into this for you. 
Q: Why does my pill pot look an off-white/ slightly opaque colour?
As we make a change to 50% PCR content in our pill pots, you might notice a slight change in colour – this is completely normal and nothing to worry about.  
Q: Which Myvitamins products can I recycle, and where?
You can recycle all of your Myvitamins products, here's how: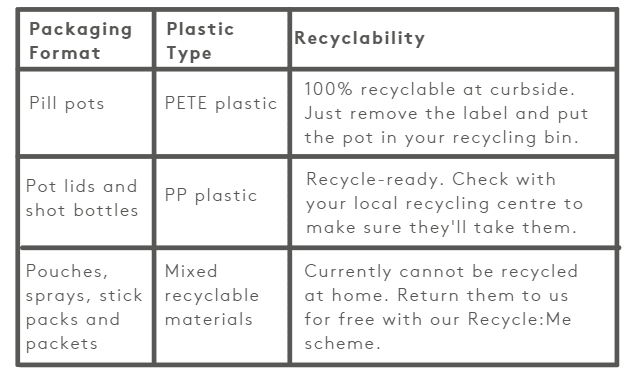 Q: How do I use Recycle:Me?
Our new Recycle:Me scheme lets you recycle your plastics for free – we even take empties from other brands. To find out more, take a look at our blog:  
Q: What is the Eco-Delivery feature at checkout?
By choosing the Eco-Delivery option at checkout, you reduce the carbon footprint of your order by over 40%. We cover the last mile of your delivery on foot, bicycle or electric vehicle. Managing your emissions couldn't be easier.  

Q: What does it mean that Myvitamins is Plastic Neutral?
By going Plastic Neutral with rePurpose Global, we're funding the removal plastic waste from the environment and offsetting our plastic footprint.  
Plastic is an incredibly durable and light-weight material that guarantees product quality, slashes food waste (as a result of the improved shelf life,) and reduces carbon footprint in transportation compared to glass or metal.  
Through our partnership with rePurpose Global, we are funding a new waste management infrastructure in Chennai. By the end of 2021, we'll have collected an estimated 366,611 tonnes of low value plastic from the area. Read our article below to learn more about our partnership:  
Q: What future sustainability plans do you have?
We've got lots of exciting sustainability projects in the pipeline. By 2023, we pledge that all of our packaging will be 100% recyclable or reusable. Additionally, our long-term goal is for our pill pots to have 100% PCR content. You can find all of our sustainability updates here.  
If you have any further questions about our sustainability journey, you can contact our customer services team.